Program | Impressions | Gallery
Impressions of the annual meeting 2019
We were happy to welcome Prof. Jochen Balbach as invited guest lecturer at the annual meeting of our bio-N3MR network NRW in Jülich. He holds the chair for Biophysics and Medical Physics at the Institute of Physics of Martin-Luther-University Halle-Wittenberg. Jochen Balbach is one of the pioneers in the field of experimental characterization of protein folding processes by high-resolution NMR spectroscopy. Currently, his team uses sophisticated NMR-based methods and biophysical approaches to study the influence of pressure, temperature and other parameters on the kinetics of protein folding and aggregation. Another research focus is structure and dynamics of medically relevant proteins.
Very recently, Prof. Rasmus Linser was appointed chair for Biomolecular NMR Spectroscopy at TU Dortmund. He develops innovative methods, in particular in the area of 1H-detected solid-state NMR spectroscopy and applies them to study complex biological systems. Rasmus Linser and his team attended the annual meeting of the bio-N3MR network for the first time.
Below are snapshots of the annual meeting 2019 of the bio-N3MR network in Jülich.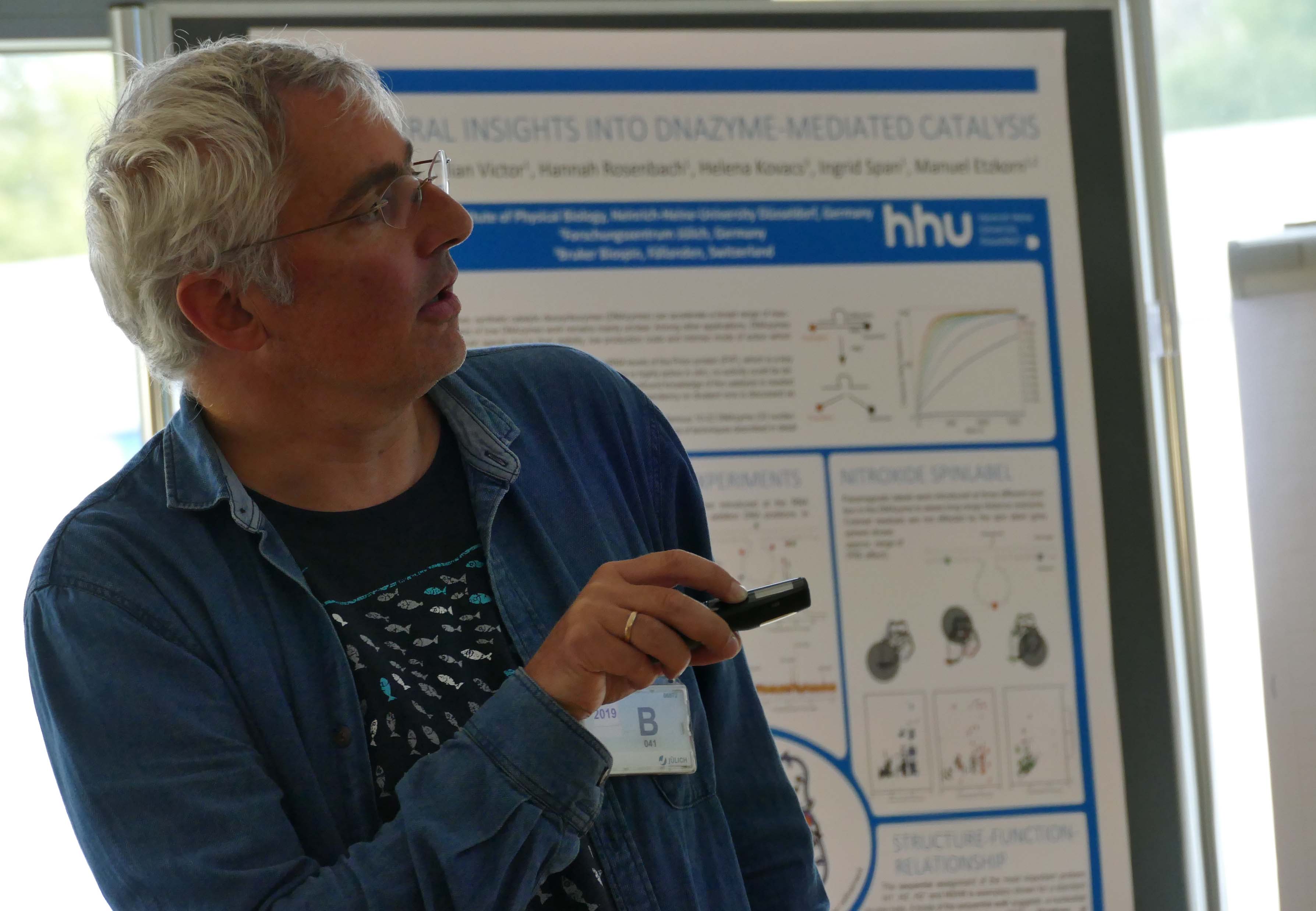 The talk of Prof. Jochen Balbach was centered on theparathyroid hormone (PTH). This hormone binds and activates its respective G-protein coupled receptor in a partially folded conformation. In contrast, the regular storage form of the hormone in the cell is an amyloid. Jochen Balbach reported new findings for each of the two functional forms of PTH.
Prof. Rasmus Linser introduced new concepts for investigating large protein complexes by solid-state NMR spectroscopy and presented first examples of their successful implementation.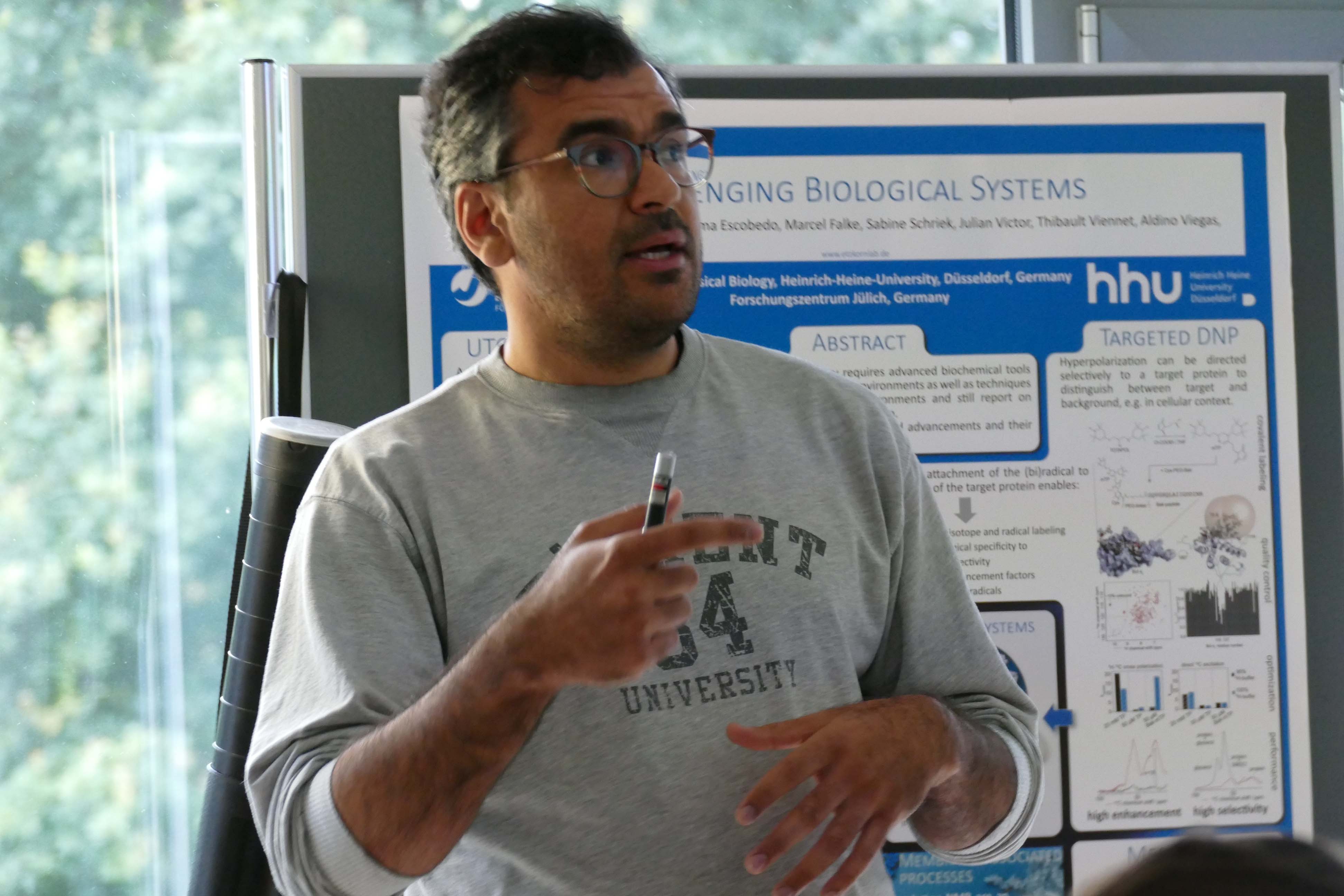 Dr. Ümit Akbey, scientist in the solid-state NMR lab of Prof. Henrike Heise in Jülich, gave a lecture on fibril forming proteins and their investigation by solid-state NMR spectroscopy.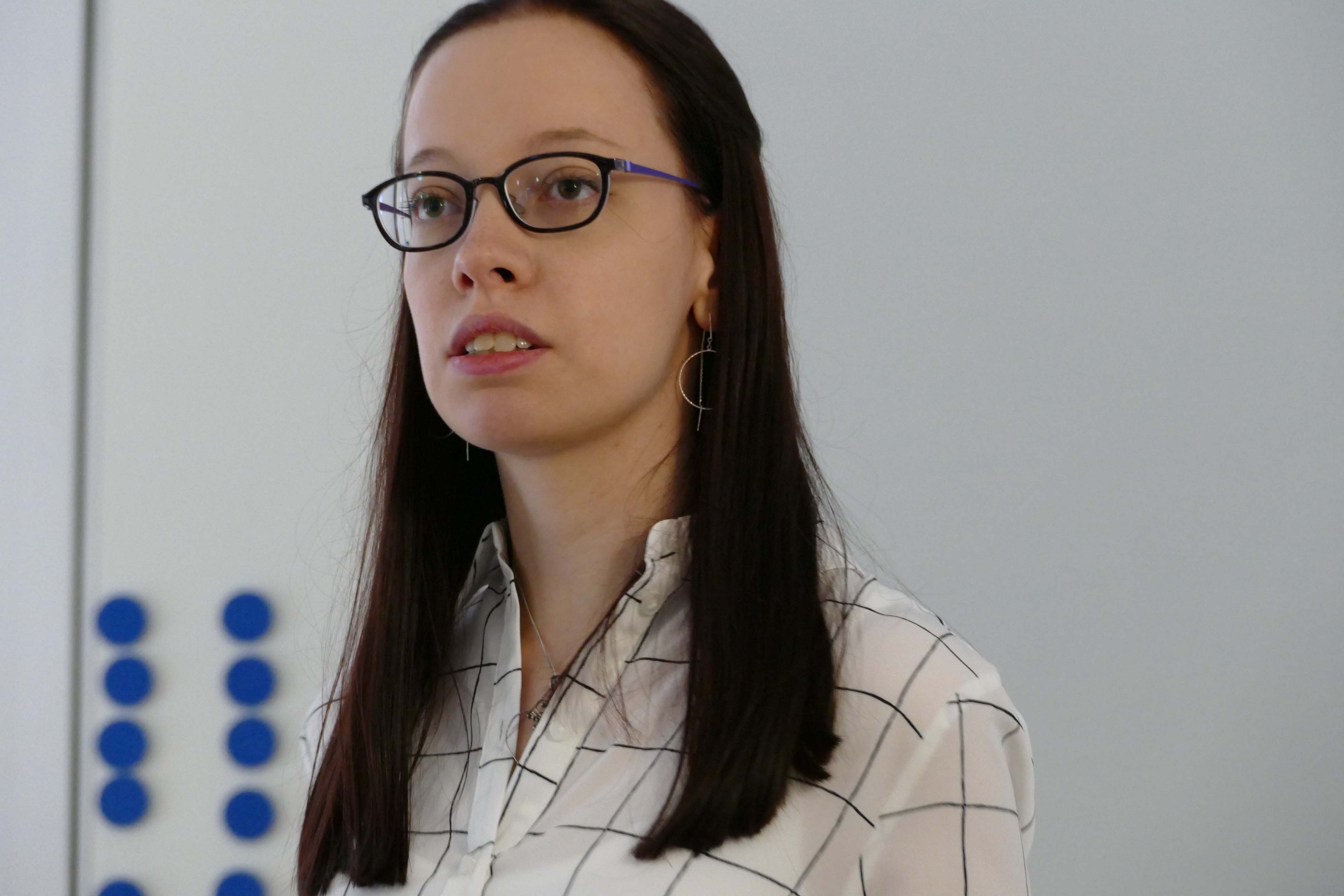 Laetitia Heid, PhD student in the team of Prof. Wolfgang Hoyer in Düsseldorf, introduced her strategy for identification of amyloidogenic β-hairpin motifs in protein data banks.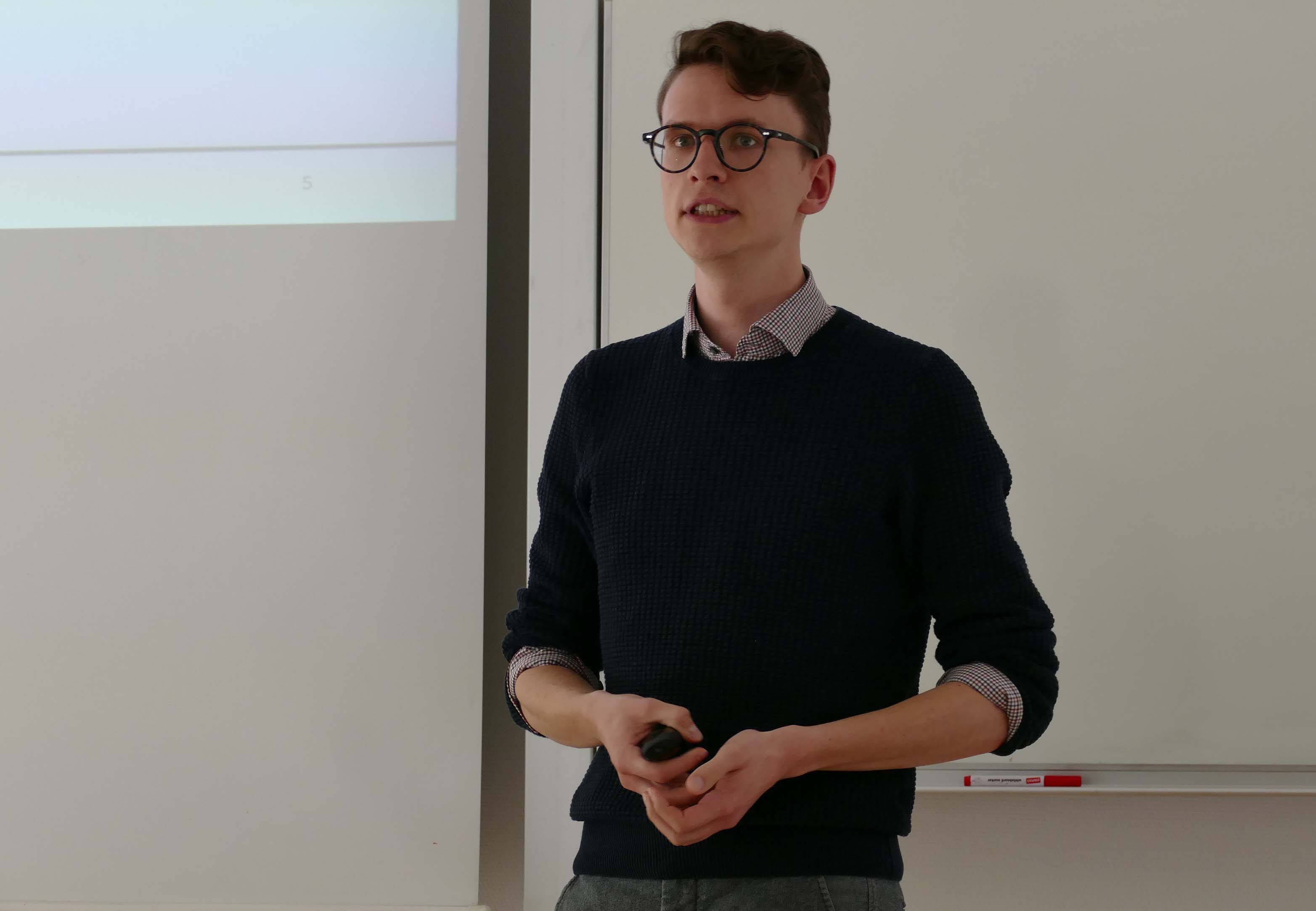 Alexander Klein, PhD student in the team of Prof. Rasmus Linser in Dortmund, employs non-uniform sampling (NUS) for acquisition of NMR spectra with up to five dimensions. He applies NUS in his study of the 72 kDa protein tryptophan synthase.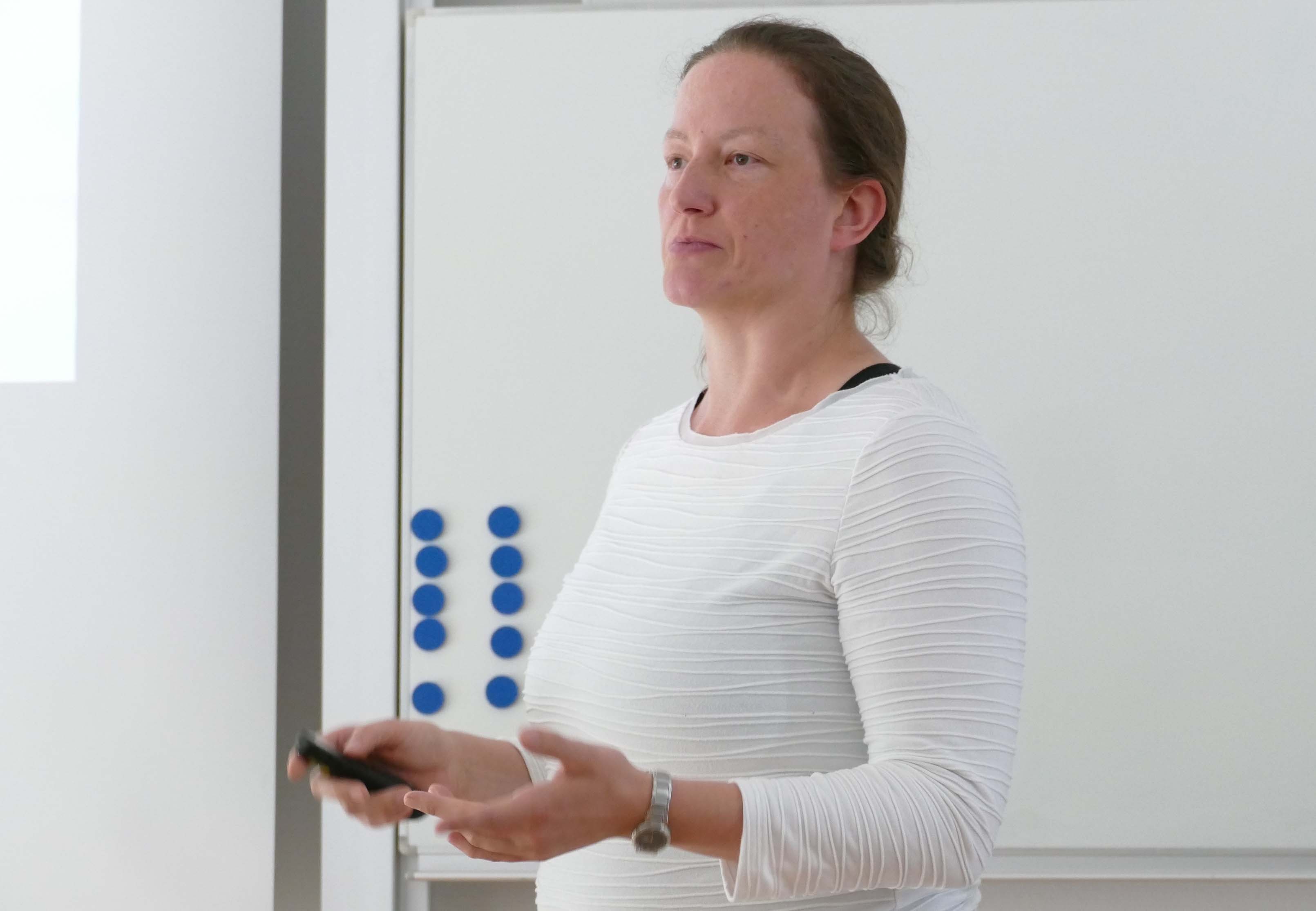 Dr. Christine Beuck, scientist in the lab of Prof. Peter Bayer in Essen, reported on challenges she encountered while using solution NMR spectroscopy for structure determination of the PUB domain of "UBX domain containing protein 1" (UBXD1).
Mike Blüggel, PhD student in the lab of Prof. Peter Bayer, uses chemical cross linking, mass spectrometric analysis and computer modelling in addition to NMR-spectroscopy to study recognition of ubiquitin by UBXD1.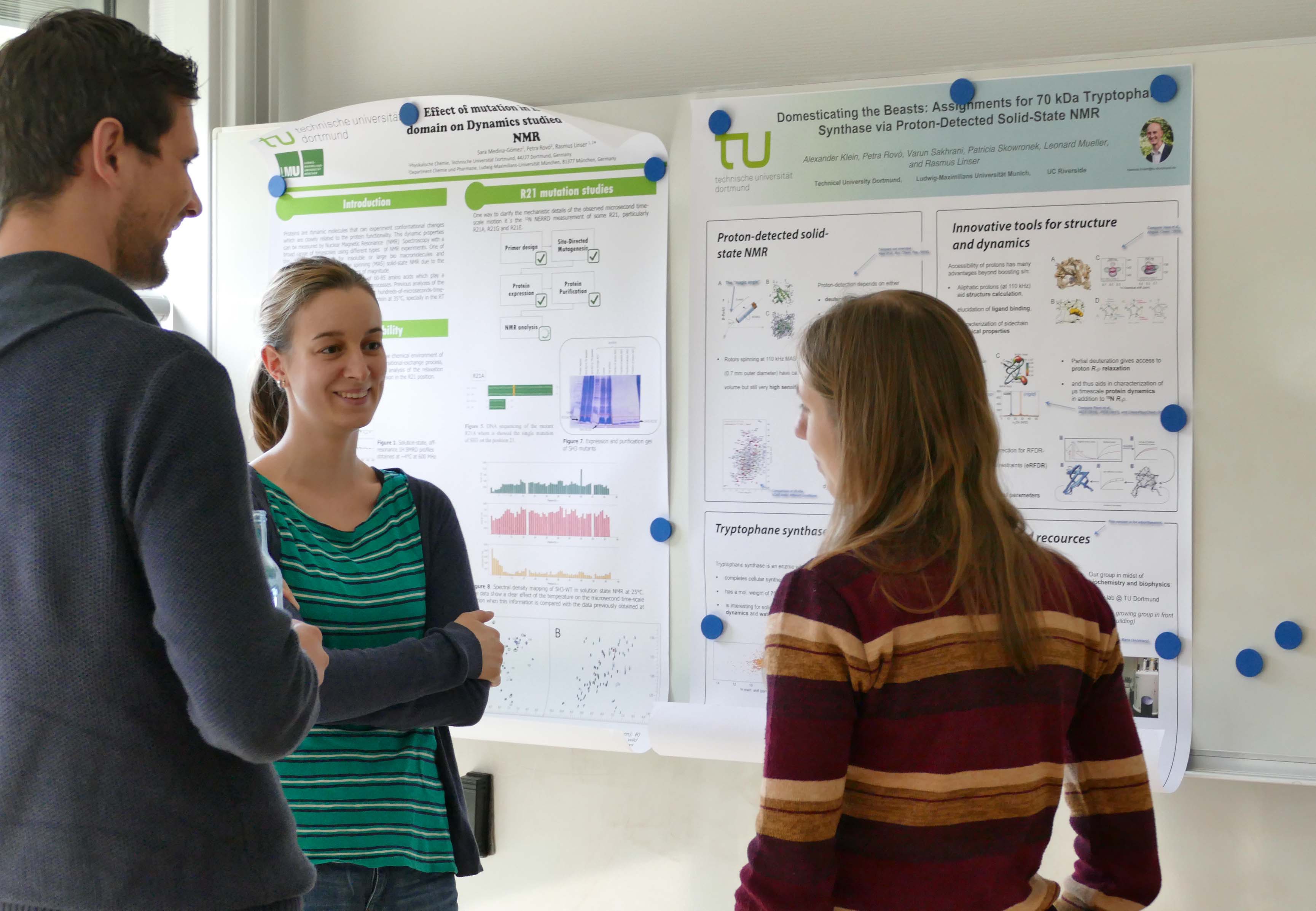 The coffee break was perfect for chatting and making new contacts.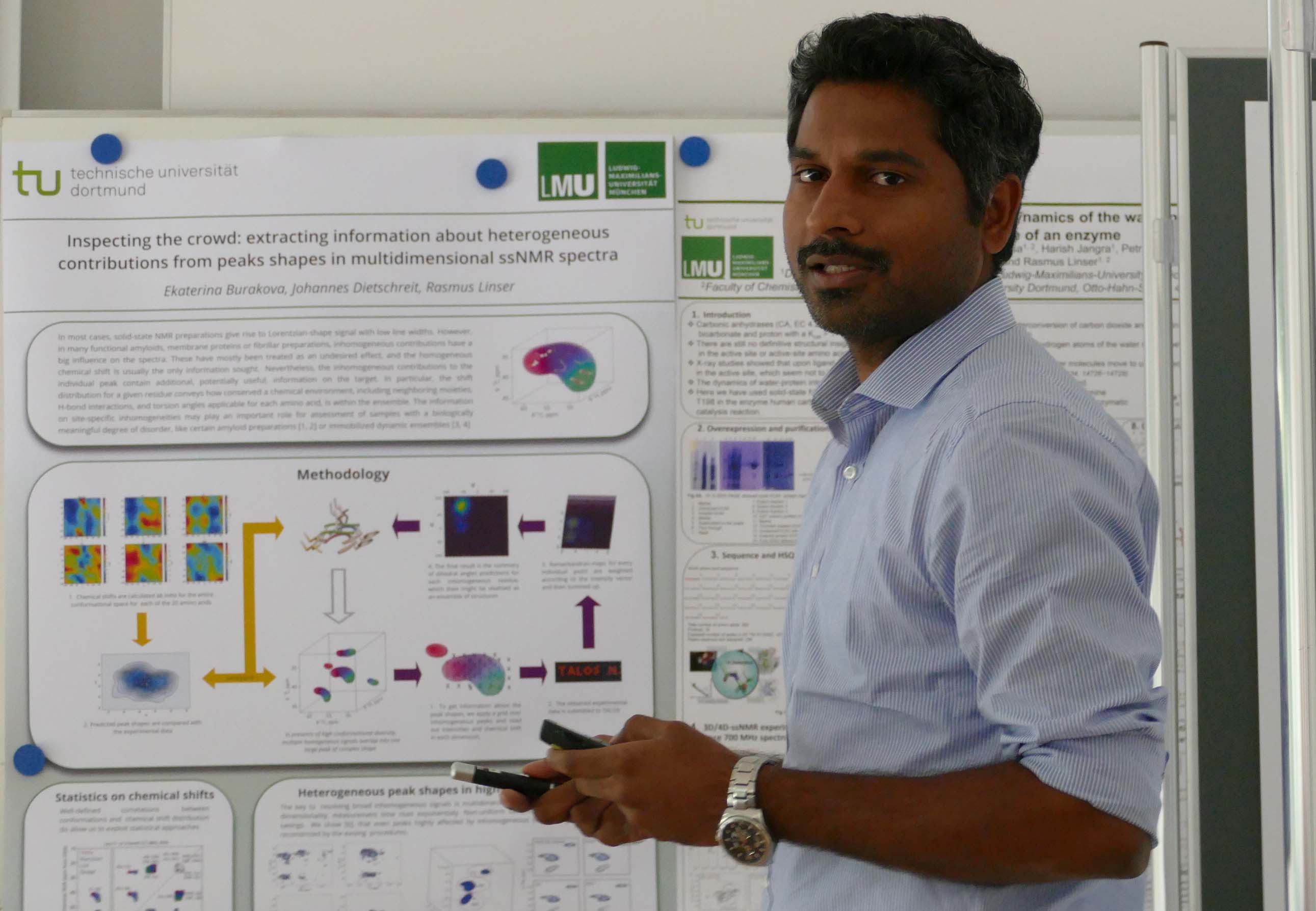 Dr. Mohanraj Gopalswamy, postdoc in the team of Prof. Holger Gohlke, works on a collaboration project with Dr. Manuel Etzkorn (Düsseldorf). Mohanraj presented data on inhibition of homo-tetramerization of the oncogenic protein AML1-ETO by specific ligands.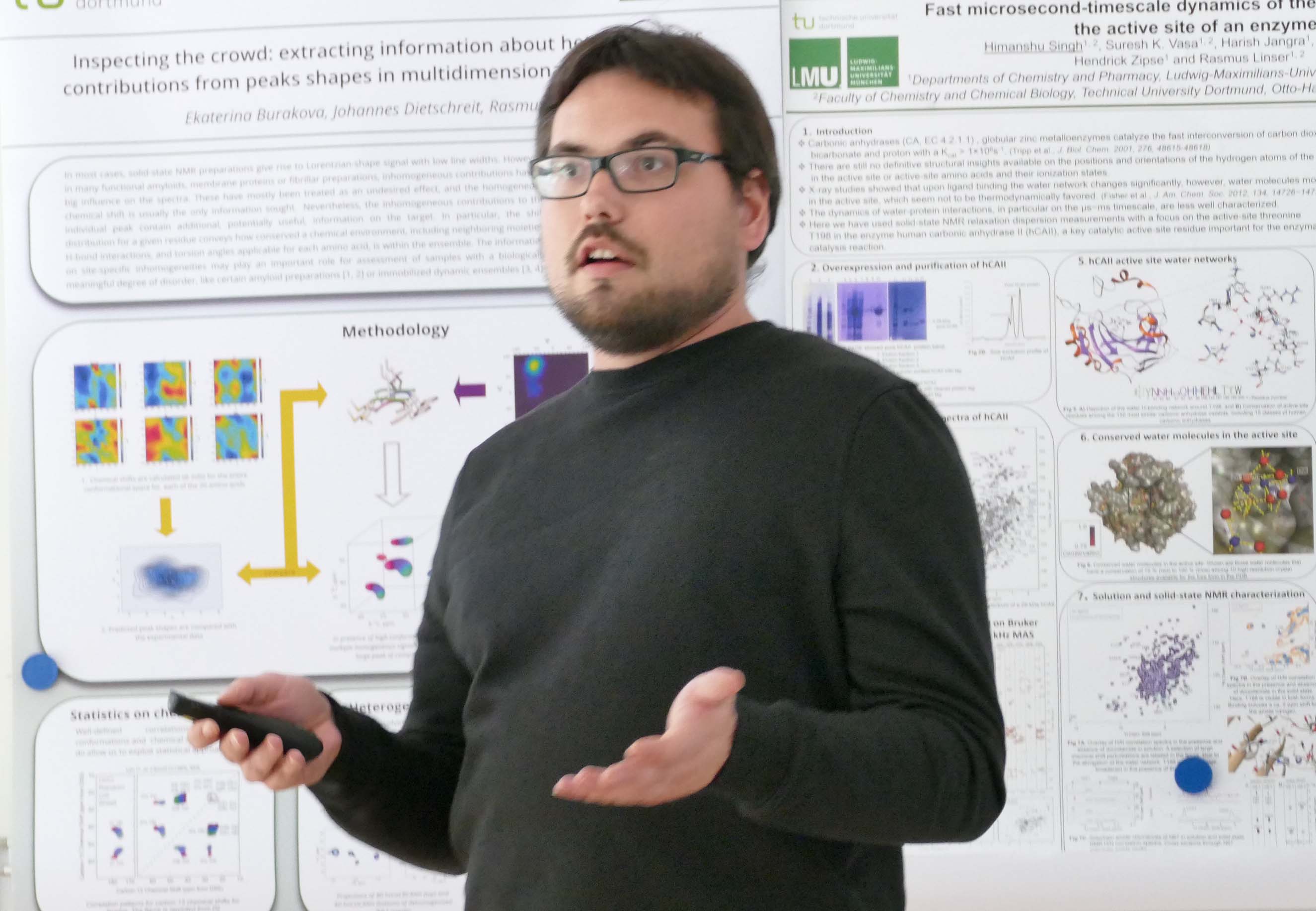 Jan Borggräfe, PhD student in the team of Dr. Manuel Etzkorn, reported on the progress of his experiments aimed at unraveling general aspects of DNA-mediated catalysis.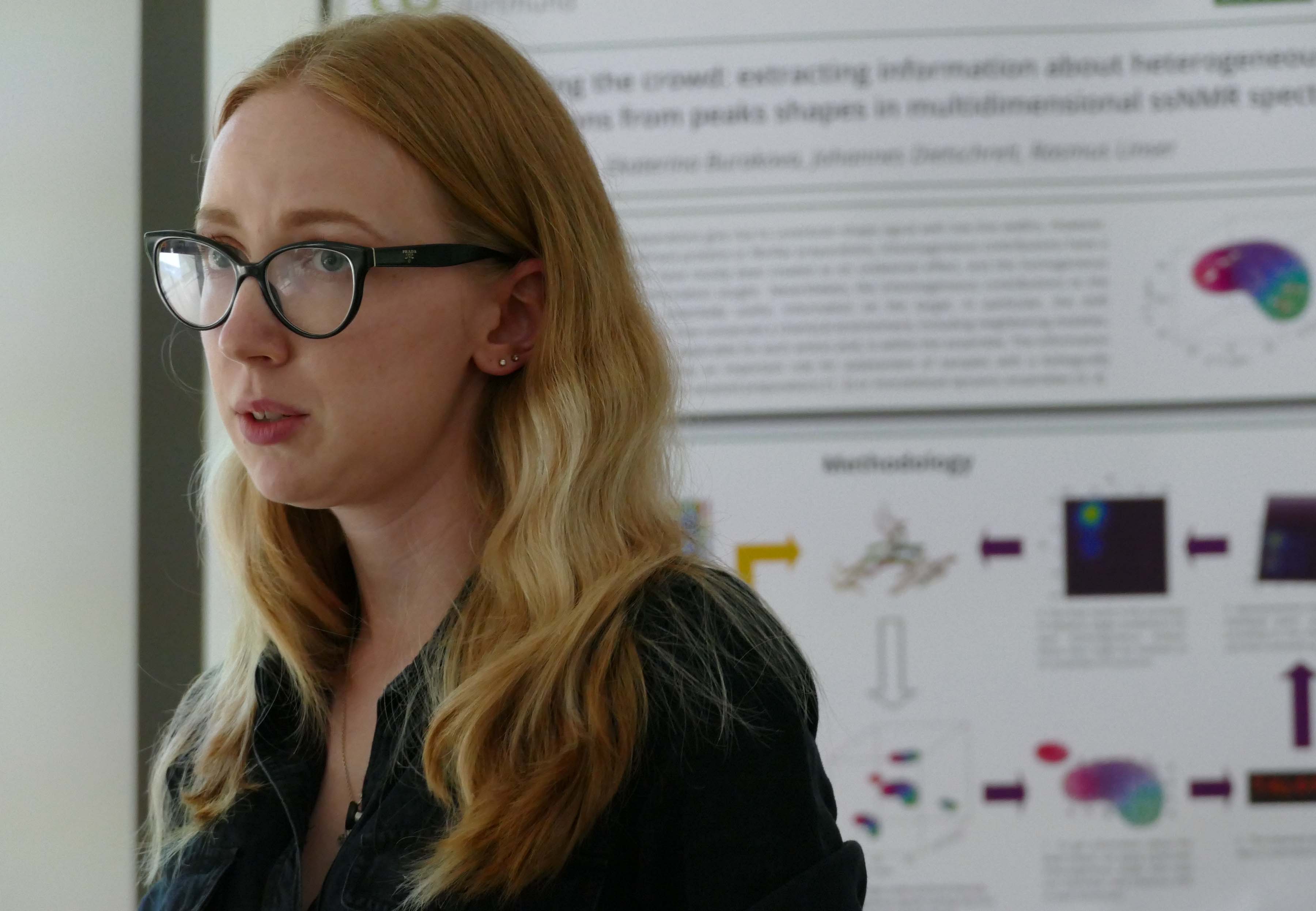 Irina Apanasenko, PhD student in the group of Dr. Philipp Neudecker (Düsseldorf), studies dynamic aspects of the membrane-associated, autophagy-related protein GABARAP by solution NMR spectroscopy. She shared her experiences in production of the triply isotope labeled GABARAP and showed first NMR results.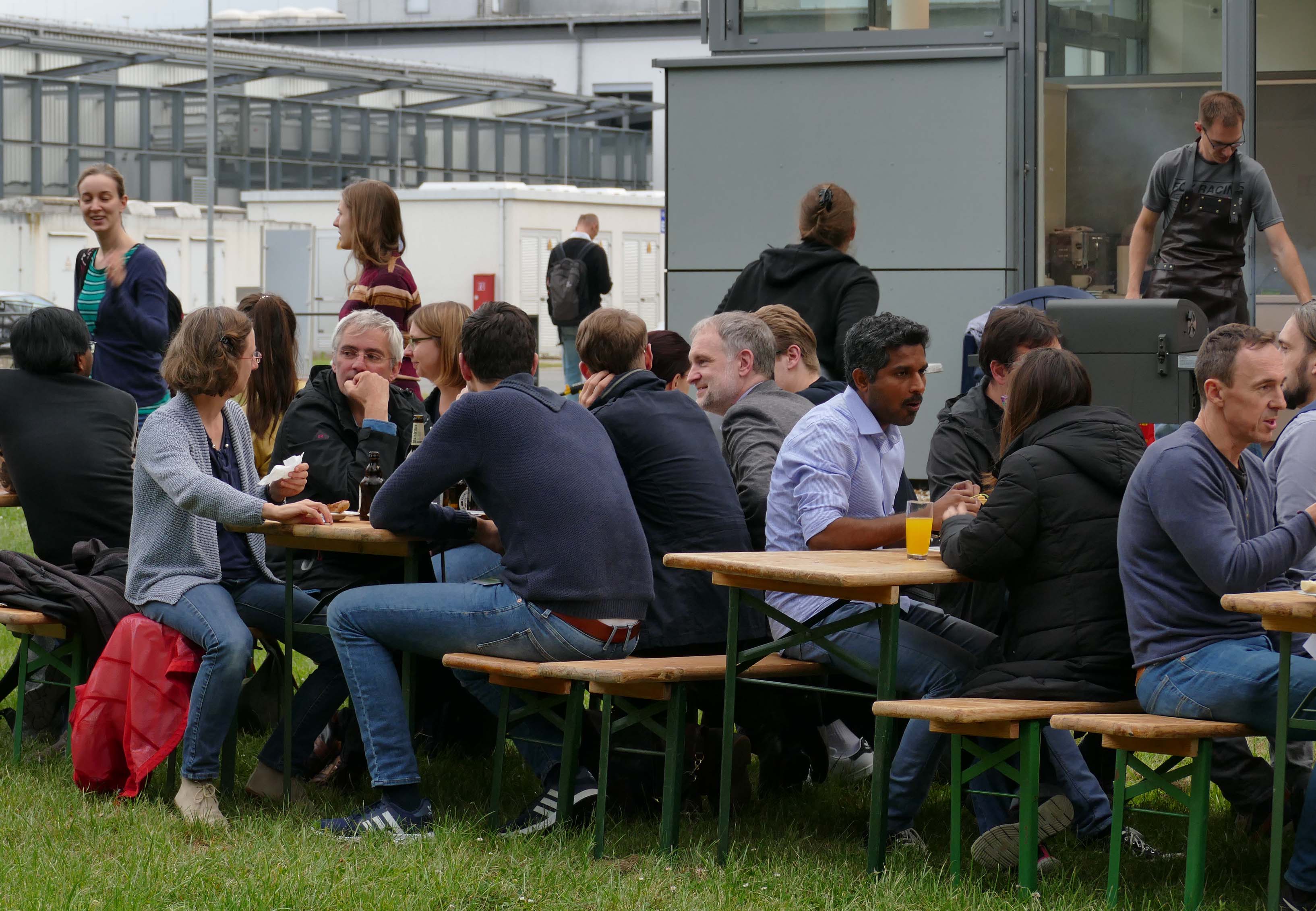 In the evening, the participants of the symposium gathered and enjoyed a BBQ together.